The Stand by Me book and website include all materials needed for program training and implementation. Districts/campuses that purchase the book are asked to share their program data via the Stand by Me website data link, in order to continuously improve programming. Dr. Cohen is available (see below) for districts that would like presentations, or assistance with introducing the program to their campuses.
Training Time
Two hour training for faculty sponsors, who then serve as on-site trainers for your students and staff.
Half-hour training for faculty and staff.
One-hour training for students.
How To Purchase
Get your copy today! Campuses that purchase the book can download the faculty sponsor training manual through our website link for no additional charge. An email with password will be sent once the thank you form is submitted.
Once faculty sponsors are thoroughly familiar with the manual, they can then serve as on-site trainers for your students and staff. They can also train future sponsors, so that training can be continuous without further cost. The manual is simple and easy to follow. Faculty sponsors can receive support and check out FAQ's.
Training time for students is one hour or less.
Training time for faculty is 30 minutes.
Once the program is up and running, they are encouraged to share data with Stand by Me, in order to continuously improve programming.
FINALIST, SOCIAL CHANGE
2018 International Book Awards
WINNER
2018 National Parenting Products Award 
FINALIST, PSYCHOLOGY
2018 Book Excellence Award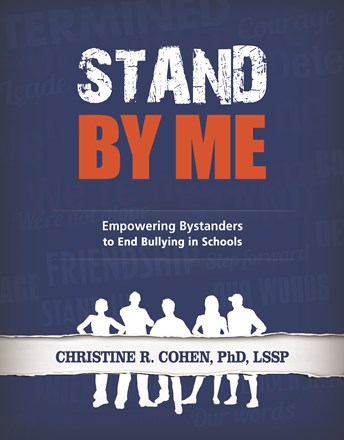 The following services are currently available from Dr. Cohen:
On-site training (including training of your faculty sponsors) and coaching for districts/campuses and will include the Faculty Training Manual for each campus (training will not include a copy of Stand by Me until publication.).
Informational presentations for districts/campuses and community groups.
Please contact Dr. Cohen for pricing tailored to your specific needs.